LOOSEN UP YOUR MUSCLES AND STRETCH YOUR NECK FOR IMMEDIATE RELIEF. FEEL FRESH AND REJUVENATED!

NTD 3000 - 

THE BEST VALUE FOR MONEY NECK TRACTION DEVICE
100% SAFE, DRUG FREE PAIN RELIEF
A Natural Pain Reliever For Neck Pain, Degenerative Disc Disease, Cervicalgia, Herniated/Bulging Discs, Radiculopathies And Many Other Symptoms.
Surgeons, doctors and therapists can't rave enough about Neck Traction Devices and the benefits they have. People who have some form of neck pain - even those who planned to undergo surgery are transforming their lives for better in an instant. 

Without pain-killers and interventions.
CAREFULY ENGINEERED TO PROVIDE VALUE AND TURN LIVES FOR BETTER
LIFE CHANGING EXPERIENCE
Taking The Pressure Off Of The Discs That Reside Between The Vertebrae (Spinal Bones) Results In An Almost Immediate Neck Pain Relief.
It can also open up the spaces where nerves exit your spinal canal and relieve pressure off a compressed nerve. 

It allows for healing nutrients to enter your neck and speed up healing. 

Traction can also help stretch the muscles and joint structures around the neck.
Proper cervical traction can be the fastest (natural!) way to stop neck pain completely and in the long term.
Fighting Modern Day Epidemic



We live in a world where about 50% of the people suffer from neck pain or some form of difficulties caused by it. 

Neck Traction Device 3000 is our best selling product which fights neck pain and has recently gained widespread popularity due to its unique concept and design. 

By using an innovative neck compression air system, it generates just enough pressure to release tension between the vertebra, disks, nerves and foramina, causing instant pain relief.
Instant Relief and Massage Therapy
Ergonomically designed, soft foam collar follows the natural neck curvature and supports it with the three-spot supporting mechanism. 

Neck Traction Device contains the pneumatic belt and one piece of free-standing frame which provides traction effect along the physiological curve through the up-down screws on L&R sides and inflated air bladder. 

Made For Everyone and Anywhere
Weighing only 2Lbs, NTD 3000 is light-weight and extremely comfortable to use, whether you're at home or office. 

Neck Traction Device 3000 is suitable for all adults. It is designed so you can take it anywhere, it is easy to use and easy to take off. 

Whether you're a student, middle-aged or a senior, NTD 3000 is a perfect choice.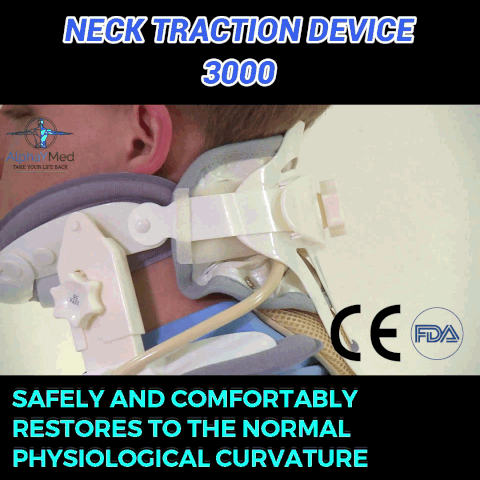 Getting Rid of Unneccessary Pain
Pain is an essential part of our lives. But we don't have to live with it. 

Modern day technology, stress and busy life we're having, are all causes for neck pain symptoms - extreme migraines, tension headaches, dizziness. Pain is incredibly debilitating, once it is corrected all the stress just disappears from the face and people get their lives back again. NTD 3000 is all about creating resilience to prevent these problems. 

Patented Design, CE and FDA approved
Implementing highest industry standards.

Unlike traditional neck traction devices, NTD 3000 is patented under no: US D719, 265 S in United States; FDA approval no. 3006891384 and CE Registration number. CA17P1072. Neck Traction Device is designed so it follows highly regulated health industry standards.
It Is Time To Erradicate The Pain
Natural and Drug-Free way. 

Cervical traction at home is one of the best drug-free ways to relieve mild to severe neck pain – without endless physical therapy treatments, or surgery. If you've ever tried it at a clinic, you know that it can immediately release all pressure off your neck. So much so, that you probably wished you had one at home to use whenever you need it.  

Fortunately, you can.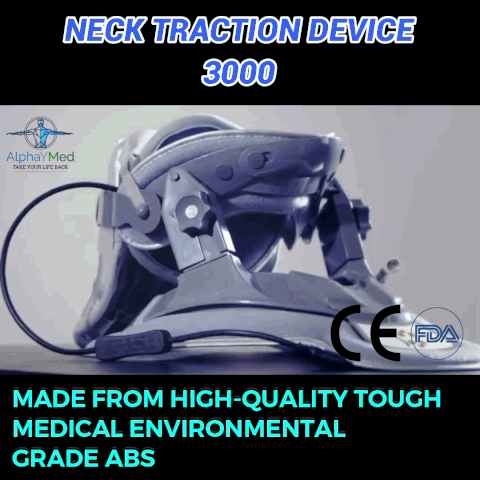 Jumpstart Your Life With Neck Traction Device 3000
This is the way to build the foundation of your new life and improve your overall well-being.
What does it take to make a dramatic change in your life? Is it an event or a person who affects you in such a way that you'll never be the same? 

In this case, it's NTD 3000. 

So you don't have to go through the pain and hard times.  
APPLICATION AND USE
1. Before inflating,be sure the valve is tightened clockwise.

2. When inflated, if there is a compression leak or no flow transfer, please tighten the spool with a wrench.

3. After tightening the spool, please clip it with a clip. 

4. When inflating,please check thegauge in the pump.when the air press reaches 15PSI, you will hear the sound of the air lesk because the relief valve start working.
The Neck Traction Device 3000 improved version has a self-rotation switch which you can adjust the tractive effort based on your personal preference. 

Immobilize the cervical vertebrae into the best physical curvature with adjustable therapy pad. 

You can control your traction power easily by hand pump because of traction power varied from person to person. 
Air traction neck brace is an auxiliary device to help people with cervical spondyloepiphyseal do self-treatment. 

Frequent use of the device will help people prevent cervical spondyloepiphyseal, relieve cervical pain and fatigue, release clinical symptoms by air traction.
MRI's of the patients treated with the NTD 3000 decompression show rehydration of the discs, and reabsorption of bulging and ruptured discs!
FOR PEOPLE WHO:
Suffer from Degenerative Disc Disease, Cervicalgia, Herniated/Bulging Discs, Radiculopathies
Spend most of their time in front of computers, laptops and tablets
Smart-phone addicts
Went through accidents and injuries.
You should avoid cervical traction if you have:
rheumatoid arthritis
postsurgery hardware such as screws in your neck
a recent fracture or injury in the neck area
a known tumor in the neck area
a

 

bone infection
issues or blockages with vertebral or carotid arteries
osteoporosis
cervical instability
spinal

 

hypermobility
PACKAGING: